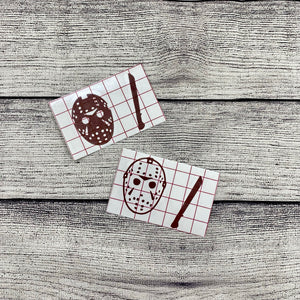 These decals are approximately 2"x 1.5" and durable! These are the perfect size for cellphone cases. You get one sticker, your choice of the blackout version on top or the outline version on bottom. These come only in this Blood Red version. 
These will come with transfer tape already on the sticker. All you need to do is peel the transfer tape and sticker up, stick it to a CLEAN surface and burnish it down with your fingernail or a credit card. Then you peel back the transfer tape leaving your new friend in place. 
If you join our group I have a video in the announcements showing you how to apply our decals.